Free VPS trial is the key to open up the path for choosing the best VPS hosting provider in the market.
As an absolute beginner, one should definitely try out the Free VPS trial offered by numerous Hosting companies, so that they can have a clear understanding of the services they are going to pay for.
So, after digging deep into the hosting market. Finally, it's time to reveal those who offer the best VPS hosting services with Free VPS trials and also free VPS trials for students.
If you got the projects, then I have got the companies for you. And these companies allow you to take VPS hosting trials for 30 days or even for one year without paying any single penny.
Some of these companies give free trials with no credit card, and some just provide free trials for 6 months.
Plus, these are the best ones available in the market that offer robust VPS hosting at affordable price plans. So, in case you find them suitable for your projects, then you can opt out one them and give your project a robust service experience.
But!
Before hopping into the list of best VPS hosting vendors. Let's have a look at exactly what VPS hosting is. As being an absolute beginner, you may be wondering why you only need VPS hosting, why not other ones?
Don't fret. I have covered every aspect of web hosting services, and in this article, you'll get everything you want to know. So, just stick around and explore the world of Hosting services.
What is VPS Hosting?
Technically, VPS(Virtual Private Server) is a virtual machine sold as a service by a web hosting service alongside other hosting plans such as shared hosting, Dedicated hosting(extension of VPS hosting), cloud hosting, and many more.
These services are managed by hypervisor software and categorized into different price points depending upon the resources you need for your project, like Bandwidth, number of sites to be hosted, SSD space, CPU, and all.
In simple words, VPS is like a private flat in an apartment in which many people stay in the condo, but everybody owns personal resources that do not have to be shared with other people.
VPS is one of the most suitable and the most prevalent techniques of website hosting. Every user on VPS has access to a virtual machine running its private copy of an operating system.
I guess you now have a clear understanding of how VPS works. So, it's time to talk about what things you should look for to get free VPS trials.
Beginner's Guide to Free VPS Trial?
In the name of free VPS Trials, vendors usually come up with a limited number of resources, and you may get easily fooled by them. So, what to do in this situation?
In such cases, do one thing whenever you select the Company that claims to offer Free VPS hosting. Then before choosing one look for these resources in its free VPS plans.
Ensure that the company offers free VPS hosting for 30 days. So that you can have enough time to use their hosting services properly. Because in a short trial, you won't be able to understand a thing.
If any company offers you free plans at price points like $1/month or ask your credit card details. Then, in such scenarios, always ask your host about the cancellation process before going for a free trial.
If you are short on time, waiting for hours and days for the server to be set up is such a drag. So choose a host that can set your server in an instant.
Having a host that offers 24/7/365 customer support service is a cherry on the cake and can be considered as a great help for most beginners to deal with some technical issues.
Sometimes a flexible VPS hosting is all you need to power up your Project. So choose a reliable one that can offer you great flexibility.
Note: if you're looking for a free VPS trial for forever or free VPS for life, then I have got the bad news for you. As there is no such thing exists or offered by Web hosting companies. They are just pseudo-marketing strategies to attract customers.
How to get a Free VPS Trial?
Initially, when the web hosting market was new to the world of the internet. Then numerous web hosting vendors claim to offer free VPS service anonymously. That time they didn't even charge anyone for a free trial.
But later on, as the market evolved, the demand for web hosting providers got high, and it became impossible to provide free VPS trials to everyone. So, in exchange for trials, companies started demanding Credit cards details.
And now it's mandatory to mention card details before taking any hosting plan trial, but they won't charge unnecessarily.
Numerous companies have different methods to get a free VPS trial, but these are the common ones that you'll come across while taking a trial.
Best Hosting Providers that offer Free VPS Trial
These best Hosting providers are handpicked from the best ones available in the market and offer genuine free VPS trials.
And!
Students can also take advantage of their free VPS trial for students' plans.
So, let's dive right into the list and explore them one by one.
#1 Kamatera
When it comes to cloud hosting no one can match the level of kamatera cloud hosting services.
They offer plenty of options to their users where you can choose your server location, OS, panel type, and also you can pay hourly or monthly.
They have a free VPS trial for 30 days where they require a credit card only to check if you are a robot or not.
Free VPS Trial 1 Month
Deploy faster & scale easier with an application server that saves your team time & money.
 If you change your mind, we'll refund your money — no questions asked.
Trial Features
Pros and Cons
Pros
No hardware maintenance needed
Excellent customer support
Simple backup and monitoring facility
Pricing
Kamatera is the only company that allows you to pay for what you use. It also allows you to modify specifications according to your site requirements and the plan starts from $4.mo.
---
#2 Vultr
Vultr is the second popular Cloud hosting platform that is undoubtedly a top-level cloud company.
Vultr offers a free VPS trial for one month along with $100 free Credits. You can take full advantage of its free trial until the credits expire.
Vultr got your back with the powerful backup/snapshot support. And it is packed with lots of amazing features.
Try Vultr For FREE With $50 Credit
Deploy high-performance SSD VPS on the worldwide Vultr network in 60 seconds. Sign up for free and start hosting virtual servers today!
Trial Features
Pros and Cons
Pros
Offers option between monthly or hourly billing
Great Uptime
World-class customer support
Cons
Many users have found the issues such as blocked SMTP
There are a few minors downsides you can experience on servers
Trial Length: 1-month free trial
Pricing:
Vultr basic cloud VPS pricing starts from $13/mo and offers an advanced one at $100/mon
---
#3 DigitalOcean
DigitalOcean offers a full array of hosting services including cloud VPS Hosting and DigitalOcean refers to as a droplet.
DigitalOcean offers Free VPS trials for 60 days and includes a $100 credit for free.
It's a great deal for developers but beginners may feel uncomfortable while working with DigitalOcean.
Trial Features
Pros and Cons
Pros
Prices are decent
Easy to use
Developers friendly tools and APIs
Cons
Customer support is not up to the mark
No phone call support
Need to pay for backups
Trial Length: 60 days free trial
Pricing:
DigitalOcean droplet prices varies start from $4.00/mon.
---
#4 ScalaHosting
ScalaHosting is a popular hosting provider that claims to offer free VPS trials for 30 days and if you found that their service is not lining up with you then you can easily cancel out your trial plan.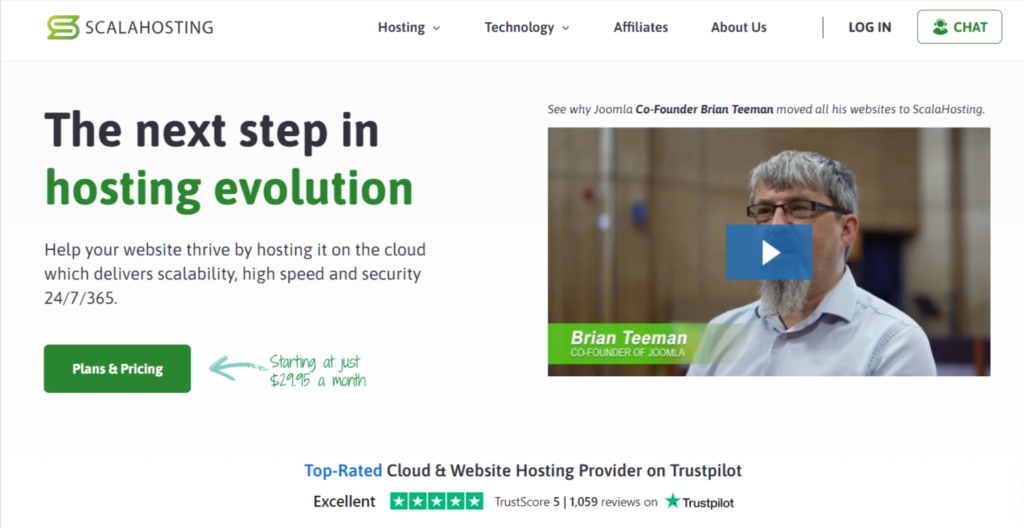 ScalaHosting has quite decent features under its hood that can be useful to absolute Beginners.
Trial Features
Pros and Cons
Pros
30-days refund policy
Easy cancellation
Beginners friendly
Cons
Fees increase on plan renewal
Limited server locatio
Trial length: 30 days(money-back guarantee)
Pricing:
ScalaHosting VPS hosting plans starting at $29.95 and offer decent resources.
---
#5 YouStable
YouStable is one of the popular Web hosting providers in the market that is mainly known for its cheap and reliable web hosting services.
If you want to experience robust site loading speed then YouStable offers you great server response time.
Although they do not offer free trials, investment in their VPS plans means saving a few bucks.
Pros and Cons
Pros
Cheap and Robust VPS hosting 
Supports Lightspeed server 
Compatible with RAID 10 SSD device
Cons
Customer support from only 9 am to 5 pm
Pricing:
YouStable offers VPS hosting at affordable rates with cyberpanel support.
Recommended Premium VPS Hosting Provider
1. YouStable
Why choose YouStable VPS Hosting?
Youstable is one of the Cheapest VPS Hosting Providers, not just the cheapest but the fastest web hosting provider in the market.
And due to NVMe SSD support the latency problem isn't happening with YouStable.
Plus, they will give you an awesome 24*7*365 customer support and their customer support executive is friendly and helpful enough to solve all your problems as soon as possible.
I will recommend YouStable if you are looking for a cheap and fast VPS hosting provider.
2. Kamatera
Why choose Kamatera VPS Hosting?
If you want to experience cloud VPS hosting then Kamatera is for you.
As it offers a powerful Cloud VPS Hosting solution rather than hosting your site on a single physical server.
The free VPS trial for 30 days is a genuine marketing strategy without any loopholes in its hosting plans, alongside giving you $100 credit for 30 days
3. Vultr
Why choose Vultr VPS Hosting?
The reasons behind putting Vultr on this list is are:
Conclusion
Phew!!! We have traveled so far and as I mentioned above I'll explain to you why you should go with VPS Hosting rather than shared and dedicated ones.
Look, shared and dedicated hosting are best for personal sites and startups, but if you are looking to host your small-scale business or larger sites then going with VPS can be a great choice for you.
VPS not only provides flexibility but also power-ups your site. While dedicated one is a bit more expensive than VPS and almost has the same features that VPS supports.
So, why go with an expensive plan when you can do the same work with the cheap one. And if you are low on budget then I suggest you go with Youstable and Kamatera. Although Youstable does not offer a Free VPS Trial but has a great VPS Hosting Service.
I hope you got an insight out of the companies that offer free VPS Trials. Now it's up to you whom you wanna go with.